Hi friend, it's us again! 👋
In this month's Advance Insider, we'll talk about:
✔️ Scaling your B2B SaaS company with marketing automation
✔️ Up next on the June podcast 🎧
✔️ What's happening at Advance B2B 🚀
_______________
Your B2B SaaS growth pillar: Marketing automation (⏱ 3 mins read)
Whether you're a marketing veteran or novice, you know by now that automation is the way to go forward — it's the key to scaling your business.
Unless you're planning to do everything (and we mean EVERYTHING) manually, we recommend selecting a marketing automation tool that works best for you to prevent human errors that lead to churn.
Marketing automation tools are designed so that you can control multiple marketing channels, from e-mails and websites to social media and paid advertising, and make them work together seamlessly.
The goal is to reach out to the right customer, with the right message, at the right time and through the right channel. Thus providing your customers the best brand experience.
Whether you realize it or not, everything comes down to the customer experience. And that is where marketing automation comes in.
With most marketing solutions being SaaS-based, it's easy to subscribe to a growing number of them. But it's not all sunshine, rainbows, and unicorns. Here's why:
👍 SaaS marketing solutions make it easier for you to find the best solution for your problems. All you need to do is subscribe, test, and decide. Don't like what you signed up for? Leave. Great! 👏
👎 Adding more niche solutions to your stack creates silos that prevent you from easily getting a complete view of your customers and marketing performance. Instead of seamless automation, you'll end up creating more fragments and challenges after solving the initial problem.
Most SaaS companies usually need tools for:
Content management

Social media marketing

Search engine optimization

E-mail marketing

Customer success management

Sales
Your marketing automation solution should be connected to the tools that you're using. With it, you can:
✅ Personalize your website with tailored content based on your visitors' profiles.
✅ Target potential leads and guide them toward the sales funnel.
✅ Automate customer onboarding to prevent churn.
✅ Build audiences on social media around your marketing automation programs.
The best way to do so is to invest in a solution that allows you to do all of the above within an ecosystem ☝️ — for example, HubSpot.
But let's be fair, there is no such thing as the perfect solution. Here are the pros and cons.


The pros 💖
HubSpot is designed to take care of all your needs in the digital world. Thus eliminating the need to pay for multiple software solutions. HubSpot's greatest feature is its integrated CRM solution that allows users to build workflows as follow-up campaigns and actions for lead nurturing — an utmost important aspect of keeping customers happy.

The challenges 😭
While HubSpot offers a complete toolset for running your digital business, it is not a magic wand that solves all challenges. If you have very specific digital needs in certain areas, you will still need to complement your HubSpot subscription with certain tools.
The good news? HubSpot has a ton of ready-made integrations to extend its functionality whenever you need it!


To HubSpot or not to HubSpot? 🤔
We won't lie: Moving your digital marketing activities from your current subscriptions to HubSpot requires a huge amount of effort. But the transition to HubSpot doesn't mean moving everything at once.
You can do so in gradual phases to avoid creating (a big and ugly) mess. It also makes the transition process easier while keeping business as usual.
Your customers won't notice the changes. But you'll get a full functioning digital marketing stack that will improve their experience along the way. 😍


Best practices 📚
Wonder how best to utilize HubSpot for growth? Hear it from our very own Growth Marketing Strategist, Wiebke Arendt!
🚀 HubSpot essentials for growth marketers: Lifecycle management (12 mins read)
🚀 HubSpot essentials for growth marketers II: Lead nurturing (6 mins read)
🚀 [Customer case] Calqulate: Mastering the HubSpot CRM and pimping the hell out of it with lead magnets (2 mins read)

Upcoming webinars 🖥
We're cooking up a webinar series for you. The first few episodes are already in the making. But we'd like to hear from you. What are some of the topics you'd like to learn more about or burning questions you have? Hit the reply button and let us know! 💌
_______________
The Growth Hub podcast: Coming up in June 🎧
Ever wondered what is competitive intelligence, who is it for, and how to do it the proper way? You're in for a treat then!
Stay tuned for our June podcast episode with Andrew McCotter-Bicknell, Head of Competitive Intelligence at ClickUp!
_______________
Be part of the Advance B2B story 🚀
May marks four new Advancers in our team! 🎉 But it doesn't stop there. We're still growing! Come join our existing pool of beautiful brains. 🧠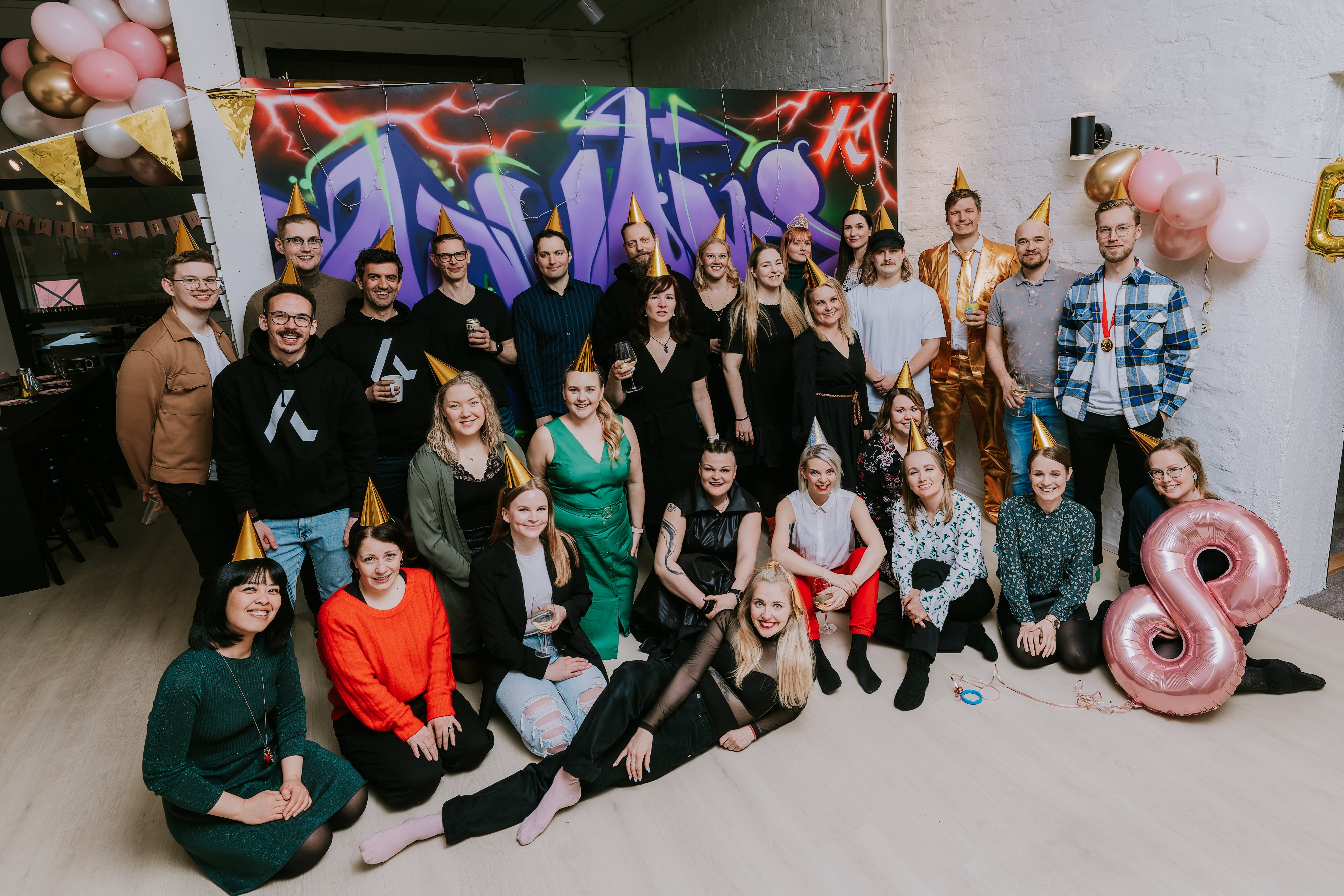 Photographer: Petri Mast
Are we the right fit for each other? These should give you a rough idea:
_______________
To stand out in the market:
Create a great experience your customers just can't get enough of, and are delighted to tell others about it! And that's what marketing automation tools are for ☝️ They improve your entire customer funnel as a whole.
As always, we really appreciate all your replies — greetings, ideas, thoughts, feedback. Keep them coming! 💌