The next task in the strategy is to define how you will structure your website — this is where design plays a crucial role.
It's no coincidence that many SaaS company websites have the same structure. It's because it plays into the customers' familiarity of finding information on a website in a certain way.
There is a psychological phenomenon known as the mere-exposure effect. It means that people prefer things they find familiar, or it may be considered unreliable.
Think about how you want to structure your offering and how you want your customers to go through your website. It's okay to use other SaaS companies as a benchmark. However, remember that your website visitors are in different customer journey stages.
For example, some visitors are visiting for the first time and are unsure what they are looking for. For others, they may be on the edge of deciding that they would like to purchase your product.
Remember, a good design encompasses the following:
It solves problems;
It adheres to a scientific method;
It is objective; and
It is measurable.
Start structuring your website by thinking about the different customer journey stages through the lens of the pirate funnel.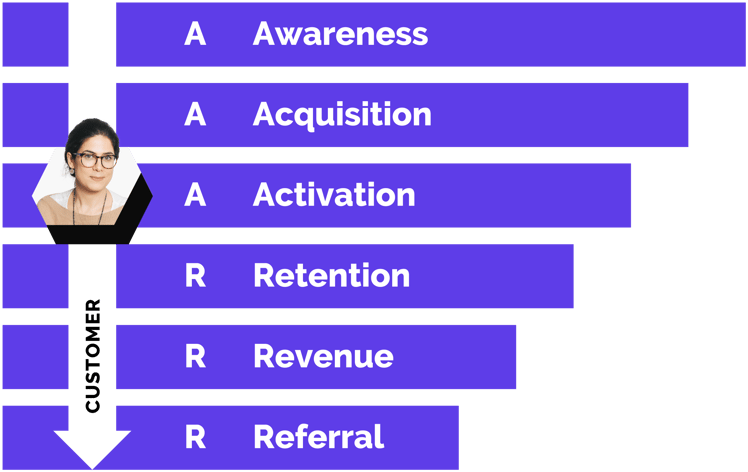 Your website plays a crucial role in the following stages:
Awareness
It's crucial to educate your potential customer. At this stage, visitors know they have a problem and seek solutions to help them get a job done. They are aware you exist.
Before considering your solution as an option, they seek more information to help them decide. It means that they are looking for resources to understand their problem better and possibly even find solutions already.
Your website should reflect your guidance and expertise on the matter without overwhelming your audience with information — just enough to help them move on to the next stage.
Your goal: Explain WHY they should consider taking this journey with you.
Acquisition
With a better understanding of their challenges, your potential customers in this stage are ready to look for exact solutions to solve their problems. They are considering your products and services as an option.
When designing this section, it is crucial to remember that your potential customers are still uncertain about taking the next step. They need reassurance that your solution is the right fit in getting their job done.
Your goal: Explain HOW they can solve the problem.
Activation/Retention
Potential customers are still in the consideration stage but are veeeeery close to moving into their final decision. Before taking that step, your potential customers will evaluate your solution against competitors and ultimately come to a conclusion. To tackle this stage, you should have pages that display your:
Pricing
Successful customer stories
Other credibility that shows you're the right fit
Your goal: Explain WHAT they can expect from your solution.
To sum it all up, there are three main themes to bear in mind when designing the structure of your website:
🤔 WHY: Educate your potential customers about the problem. Offer every bit of valuable information you can.
🧐 HOW: Present a solution to the problem and ways to ease their pain points to improve their lives.
💡 WHAT: Help potential customers evaluate your solutions against competitors and offer unique selling points that make your solution the number one choice.
More importantly, make sure you know your target audience. It all boils down to knowing your ICP and tailoring your messaging accordingly. Otherwise, you will end up talking to an empty auditorium.