Hey! I'm Edward, the newest member of the Advance B2B team. I'm a Marketing Strategist and I'll be working as part of our team that is taking Advance B2B international!
Originally from the UK, I swapped tea, cricket and rain for coffee, ice hockey and snow, and moved to Finland some several years ago now.
Since then I've been lucky enough to work for some amazing high-growth companies and I've spent close to the last two years at Nordcloud where we transformed our customers' businesses through the successful adoption of cloud technologies. Powered by inbound marketing on the HubSpot platform, the company has grown rapidly over recent years, going from 40 team members and revenue of €7 million in 2014 to 100 team members and revenue close to €30 million in 2016 - in addition, Nordcloud was just awarded 1st place in the Deloitte Fast 50 as the fastest growing technology company in Finland! As a member of our two-person marketing team, I got to witness the huge transformation that is taking place as more and more organisations move to the cloud, which at Nordcloud we called The Cloud Revolution!
Interestingly enough, there is a similar revolution taking place in the world of marketing...
Methodologies such as Inbound and platforms such as HubSpot are completely changing the way companies market to match the way people buy. Once upon a time you may have relied on traditional outbound marketing tactics such as cold calls, bulk emailing, and commercial advertisements, but nowadays, by creating truly helpful and valuable content that your dream customers will love, modern day inbound marketing will ensure we all live happily ever after.
HubSpot's Happiest Customers
When I first met the Advance B2B team I immediately realised that this is a company that wants to transform the way companies run their marketing. Through valuable content that is aligned to your customer's interests, the iterative design of highly-converting websites, and smart inbound tactics supported by marketing automation, you will be able to turn anonymous strangers into happy customers who promote your business!
And just the other week I was at INBOUND 2016, one of the largest inbound marketing conferences in the world, and Advance B2B were presented with the Happiest Customers award for the EMEA region by HubSpot. Several awards were given out during HubSpot's Impact Awards, but this is one of the most prestigious as it's a strong sign that you're doing everything right; if your customers are happy, then chances are that their customers are happy too.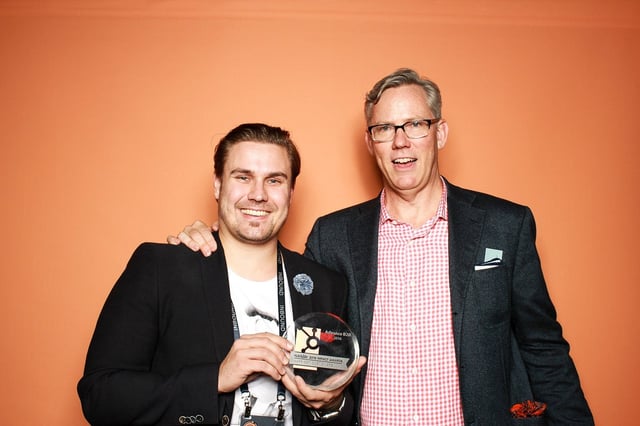 Advance B2B CEO, Paavo Laaksonen, receives the Happiest Customers Award for EMEA from HubSpot CEO, Brian Halligan, at Inbound 2016 in Boston.
A Truly Two-Way Recruitment Process
Another unique aspect to Advance B2B is their recruitment process. It is intensive, demanding, fun, challenging, transparent, and truly two-way! Spread over four rounds, you have the opportunity to meet with a variety of people from the organisation, and as a candidate, you're encouraged to openly air your feelings in case the company is not the right match for you. This really made me realise that recruitment is - and should be - a two-way process between candidate and company. For me, the more I got to know the company, its people and culture, the more I realised that this is a great place to work! Then came the fourth and final round, which is affectionately know as, The Grilling. After being assigned a task that reflects the work involved at Advance B2B, I had a week or two to prepare and deliver my findings to the entire company. Upon completion of the presentation everyone had their turn to give positive and critical feedback, which was followed by an open group discussion about the assignment, life at Advance B2B, and life in general.
I'm extremely pleased to say that I made it through the grilling (at least without too many burns) to become an official member of the Advance B2B team, and I'm super excited to get to work with such smart, hard-working, and fun colleagues, as well as our happy customers on all things inbound!
So welcome to The Inbound Revolution, we're certain you're going to love it here — and so will your customers!
-Edward
ps - if you want to see some of the cool inbound things we did at Nordcloud then check out my guest post on the HubSpot Academy blog about Cloud Ninjas, interactive content, and increasing your inbound leads by 47%!